Infertility is one of the leading health issues of both married men and women around the world. Thousands of dollars are spent each year on fertility treatments. Lifestyle and diet have a lot to do with infertility. When one doesn't take care of the food, you take in your body and does not maintain a healthy lifestyle, and they are likely to experience infertility in their life. But infertility is not untreatable.
Doctor Imtiaz – top Male Fertility Specialist in Dubai
Dr. Imtiaz is one of the most famous frequently visited and highly rated doctor in terms of services clinic. He is male fertility specialist in Dubai. The legend doctor Imtiaz tends to use the most updated technologies and is committed to helping families grow and live a happy life.
His clinic has its laboratories, and the staff is also equipped with modern and most updated training so that they can treat the patients well. He not only provide treatment to his male patients but also consultancy. It is one of the best in its services regarding fertility treatments.
Call Us Today to Book Appointment
Call us for urgent medical attention; Make an appointment, or Call Us in the working time!
Diagnosing male infertility problems
Fertility issues is not only bound to women but there is an exceeding number of males who are facing fertility issue. The top most problems can be due to erectile dysfunction, abnormal sperm production or any other disease like diabetes, gonorrhea mumps, HIV etc. So, these diseases can cause serious male fertility issues. Diagnosing male infertility problems involves the following points:
General examination of body
Post-ejaculation urine analysis
Transrectal ultrasound test
Providing medical services in which urological surgeries, laser surgery to treat a wide variety of conditions, and specialized treatment of these: urinary incontinence, prostatic disorders, congenital urological anomalies, urethral stricture disease, fistula repair, kidney stones, kidney cancer, prostate cancer, prostate gland enlargement, urological tumors, hydrocele and varicocele surgery, genitourinary tract infections, trauma, sexual dysfunction, and minimally invasive treatments.
Dr. Imtiaz also deals with laparoscopic surgical procedures and the latest technology equipment allows Dr. to make an accurate diagnosis and do an effective treatment.
Dr. Syed Imtiaz Ali can speak Hindi/Urdu/English Fluently – which makes it easy to communicate with the majority of patients in Dubai and other Emirates.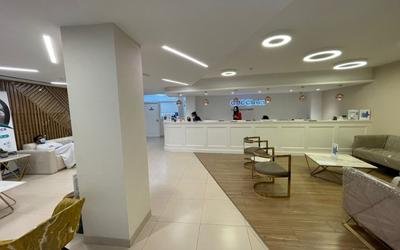 essential to consider the following points.
Dr Imtiaz is here to cure your all male fertility issues and can give you best treatment. He is fertility specialist and can give you good advice to lead a simple and peaceful life.
What Patients Say About Dr. Imtiaz
Ali Al Saffar
August 31, 2022.
Dr. Syed is one of the best urologists I have met; he is always available to answer any questions and clearly explain in death each step of the disease and the surgery plan. Along with his expertise, his patient care is excellent.
Uma Maheswaran
August 17, 2022.
Dr Syed Imtiaz Ali is the best ever urologist that i have ever met in my life. Painless treatment and with 100% satisfaction. He is very patience and very thorough in what he does. One stop for all your worries. Once again, I would like to honestly thank Dr Syed Imtiaz for his commitment and dedication towards his patients. Thank you once again!
WezarXmen6ar
August 11, 2022.
الدكتور شاطر ما شاء الله فاهم وخبير في مجالة و محترم في التعامل و تحس انه يهتم في مرضاه ويتابع حالاتهم بشكل مستمر.
MAHESH GUPTA
July 26, 2022.
I was diagnosed with High Grade tumor in urinary bladder last year and was recommended to go for immediate treatment in India. However due to lock down in Covid time I got stuck in Dubai. At such critical time I was referred to meet Dr Syed Imtiaz Ali in Medcare and he not only given the best treatment but took special care and gave all the comfort to tide over the treatment. His friendly support gave me all the strength and increased my moral. He is one of the best Urologist in UAE. I wish him all the success.
crank honey
July 24, 2022.
Very pleasant experience and strongly recommend Dr Syed Imtiaz Ali for all urological consultations.
Junaid Ur Rehman
July 18, 2022.
Best Urologist doctor in Dubai! Nice and humble personality.
I had wonderful experience with Dr Syed Imtiaz Ali, Urologist. And he is strongly recommended for any urological opinion.
We had a wonderdul experience with urologist doctor syed imtiaz and his nurse alex! I recommend him with any urological consultations.
Ryan Roberts
July 6, 2022.
Dr. Syed was very prompt in his diagnosis of my issue and quick to act. The procedure was done professionally and quickly. Well recommended
Yajantha Yapa
July 5, 2022.
Doctor Syed Imtiaz is really good at diagnosing my illness which was there for many years. His surgery was excellent. I did not feel any pain after and I was able to go back to work with minimal after affects. He is a very positive person I recommend him.
Get Treated with Infertility Specialist
 Most of the times simple medications work quite well. Suppose you wonder what should you do if you want to get the help of a doctor in getting your infertility treated. So, you don't have to think a lot about it because we have got your back.
Frequently Asked Questions
After finding the answers to all the issues as mentioned above, it is essential to look for a specialist who can treat your infertility if you already have not found one. Here are a few points to keep in mind while looking for a specialist.
Search for the specialists near your area ask your family, friends, neighbours and colleagues to give you recommendations
Ask your general practitioner to refer to you to a fertility specialist.
Check for a specialist online, read the comments and rating of the patients on his or her medical profile.
You can also search for the best fertility clinics near you and visit them by checking their information online.
Check what kind of treatments the specialists provide for fertility treatment.
Consider the cost of these treatments.
Always go for a reliable doctor, gives effective medications and is cost-friendly.
In case you think that an individual doctor's prescription is not doing you any good take no time in changing or reconsidering him or her.
Fellow of these Institutions