Urology is a medical specialty that treats issues of the male and female urinary tracts (kidneys, ureters, urinary bladder, and urethra). Also, it covers the male reproductive organs that are capable of producing children (testes, scrotum, prostate, etc.). Urologic health is important since these problems in the body parts can happen to anybody.
best Urologist Doctor in Dubai
Look no further for a Dr. Urologist in Dubai, book an in-person appointment for a consultation.
Dr. Syed Imtiaz Ali is one of the best Urologist doctors, men's health andrologists, and well-known Urologists in Dubai.
He has experience in treating multiple diseases and infections of the urological problems in both male and female patients and children too by providing his personalized service and treatment services.
Call Us Today to Book Appointment
Call us for urgent medical attention; He is the best and most well-reputed Urologist in Dubai. Consult with Doctor Syed Imtiaz Ali (Urology Specialist In Dubai), make an appointment, or Call Us in the working time!
Dr. Syed Imtiaz Ali provides a comprehensive range of urological care for common or rare urological conditions through his experience and deals in both surgical, non-surgical treatments and disorders with the latest technology and efficient diagnosis.
Providing medical services in which urological surgeries, laser surgery to treat a wide variety of conditions, and specialized treatment of these: urinary incontinence, prostatic disorders, congenital urological anomalies, urethral stricture disease, fistula repair, kidney stones, kidney cancer, prostate cancer, prostate gland enlargement, urological tumors, hydrocele and varicocele surgery, genitourinary tract infections, trauma, sexual dysfunction, and minimally invasive treatments.
Dr. Imtiaz also deals with laparoscopic surgical procedures and the latest technology equipment allows Dr. to make an accurate diagnosis and do an effective treatment.
Dr. Syed Imtiaz Ali can speak Hindi/Urdu/English Fluently – which makes it easy to communicate with the majority of patients in Dubai and other Emirates.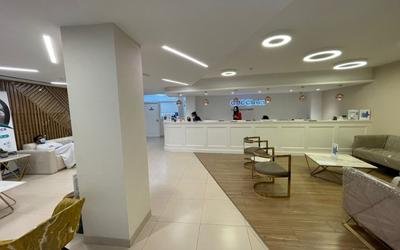 treats a wide variety of conditions
Dr. Syed Imtiaz Ali specializes in both pediatric and adult urology.
●     Cancers of the bladder, kidneys, penis, testicles, and adrenal and prostate glands
●     prostate gland enlargement
●     Interstitial cystitis
●     Kidney diseases
●     Urinary stones
●     prostatic disorders
●     Urinary tract infections (UTIs)
●     Varicoceles, or enlarged veins in the scrotum
●     Cancers of the bladder, kidneys, and adrenal glands
●     Interstitial cystitis
●     Kidney stones
●     Overactive bladder & prolapse
●     Female urinary tract infections (UTIs)
●     Bed-wetting
●     Blockages and other problems with the urinary tract structure
●     Undescended testicles
What Patients Say About Dr. Imtiaz
Ali Al Saffar
August 31, 2022.
Dr. Syed is one of the best urologists I have met; he is always available to answer any questions and clearly explain in death each step of the disease and the surgery plan. Along with his expertise, his patient care is excellent.
Uma Maheswaran
August 17, 2022.
Dr Syed Imtiaz Ali is the best ever urologist that i have ever met in my life. Painless treatment and with 100% satisfaction. He is very patience and very thorough in what he does. One stop for all your worries. Once again, I would like to honestly thank Dr Syed Imtiaz for his commitment and dedication towards his patients. Thank you once again!
WezarXmen6ar
August 11, 2022.
الدكتور شاطر ما شاء الله فاهم وخبير في مجالة و محترم في التعامل و تحس انه يهتم في مرضاه ويتابع حالاتهم بشكل مستمر.
MAHESH GUPTA
July 26, 2022.
I was diagnosed with High Grade tumor in urinary bladder last year and was recommended to go for immediate treatment in India. However due to lock down in Covid time I got stuck in Dubai. At such critical time I was referred to meet Dr Syed Imtiaz Ali in Medcare and he not only given the best treatment but took special care and gave all the comfort to tide over the treatment. His friendly support gave me all the strength and increased my moral. He is one of the best Urologist in UAE. I wish him all the success.
crank honey
July 24, 2022.
Very pleasant experience and strongly recommend Dr Syed Imtiaz Ali for all urological consultations.
Junaid Ur Rehman
July 18, 2022.
Best Urologist doctor in Dubai! Nice and humble personality.
I had wonderful experience with Dr Syed Imtiaz Ali, Urologist. And he is strongly recommended for any urological opinion.
We had a wonderdul experience with urologist doctor syed imtiaz and his nurse alex! I recommend him with any urological consultations.
Ryan Roberts
July 6, 2022.
Dr. Syed was very prompt in his diagnosis of my issue and quick to act. The procedure was done professionally and quickly. Well recommended
Yajantha Yapa
July 5, 2022.
Doctor Syed Imtiaz is really good at diagnosing my illness which was there for many years. His surgery was excellent. I did not feel any pain after and I was able to go back to work with minimal after affects. He is a very positive person I recommend him.
Other symptoms, even if you think they're unrelated to your complete medical history, including other diagnosed health conditions your ED symptoms, and how long they've been going on. If you smoke, whether you consume alcohol, and how much you drink any stress or relationship problems you may be having.
Frequently Asked Questions
Fellow of these Institutions