Hernia Treatment & Surgery
Hernia is an abnormal disorder in which a weak muscle relinquishes its elasticity and firmness and because of that an organ or tissue moves from its original position. In Hernia, it looks like an organ is struggling to get out from the cavity points of the body. Though Hernia can happen in any part of the body it generally occurred in the abdomen region. If adequate therapy won't be applied on early-stage hernia gradually and steadily upgrades every day and comes out being disastrous. It begins with a slight lump or pain in the body and after some time, the victim will start feeling that chunk is expanding day by day.
best Hernia Doctor in Dubai
Look no further for a Hernia Doctor in Dubai, book an in-person appointment for a consultation.
DR IMTIAZ ALI, being an expert Urology consultant in the UAE, is treating people who are facing dilemmas like Hernia and further relatable medical conditions. Because of his immense devotion and credible knowledge today, he is the preference of several patients in the UAE. 
It is relatively significant for any individual who is immersed in the medical profession to pay attention and connects with a patient's situation.
Call Us Today to Book Appointment
Call us for urgent medical attention; Make an appointment, or Call Us during the working time!
Every disease has its indications which enable us to analyze it and deal with it. If these symptoms are detected at an initial phase and treated there is the probability that the disease might entirely fade away. In case if it isn't taken seriously the dilemma might get further worse. To prevent more complications, it is extremely essential to be wise enough to recognize the clues and indications. Most of the time people choose to resist the symptoms which ultimately induce further toxic problems.
excessive pain & Discomfort during Sneezing & Bending
The hernia isn't a fatal disease and can be fixed very effortlessly but the situation won't be similar every time. Discussing a doctor is extremely important when any of the following tragic things happen.
When there is a feeling of abrupt pain it is very crucial to visit a doctor.
Nausea and fever are the warnings that the hernia is now getting severe.
Intense pain in the abdomen.
When the bulge of Hernia starts transforming its color it is a clue that doctor help is required.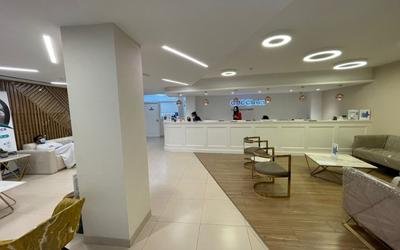 Treats all two fundamental traits of Hernia
There are numerous categories of Hernia but most popularly it happens in the abdomen area, especially in the groin.
It is more common and is slightly more severe than Internal Hernia. A few popular points of external hernia are the following.
Femoral hernias
Umbilical (navel) hernias,
Inguinal (groin) hernias
It is rare and quite painful compared to an external hernia. It usually transpires in the abdomen and intestines. Here are a few examples of Internal hernia.
Diaphragmatic hernia
Preduodenal hernia
What Patients Say About Dr. Imtiaz
Ali Al Saffar
August 31, 2022.
Dr. Syed is one of the best urologists I have met; he is always available to answer any questions and clearly explain in death each step of the disease and the surgery plan. Along with his expertise, his patient care is excellent.
Uma Maheswaran
August 17, 2022.
Dr Syed Imtiaz Ali is the best ever urologist that i have ever met in my life. Painless treatment and with 100% satisfaction. He is very patience and very thorough in what he does. One stop for all your worries. Once again, I would like to honestly thank Dr Syed Imtiaz for his commitment and dedication towards his patients. Thank you once again!
WezarXmen6ar
August 11, 2022.
الدكتور شاطر ما شاء الله فاهم وخبير في مجالة و محترم في التعامل و تحس انه يهتم في مرضاه ويتابع حالاتهم بشكل مستمر.
MAHESH GUPTA
July 26, 2022.
I was diagnosed with High Grade tumor in urinary bladder last year and was recommended to go for immediate treatment in India. However due to lock down in Covid time I got stuck in Dubai. At such critical time I was referred to meet Dr Syed Imtiaz Ali in Medcare and he not only given the best treatment but took special care and gave all the comfort to tide over the treatment. His friendly support gave me all the strength and increased my moral. He is one of the best Urologist in UAE. I wish him all the success.
crank honey
July 24, 2022.
Very pleasant experience and strongly recommend Dr Syed Imtiaz Ali for all urological consultations.
Junaid Ur Rehman
July 18, 2022.
Best Urologist doctor in Dubai! Nice and humble personality.
I had wonderful experience with Dr Syed Imtiaz Ali, Urologist. And he is strongly recommended for any urological opinion.
We had a wonderdul experience with urologist doctor syed imtiaz and his nurse alex! I recommend him with any urological consultations.
Ryan Roberts
July 6, 2022.
Dr. Syed was very prompt in his diagnosis of my issue and quick to act. The procedure was done professionally and quickly. Well recommended
Yajantha Yapa
July 5, 2022.
Doctor Syed Imtiaz is really good at diagnosing my illness which was there for many years. His surgery was excellent. I did not feel any pain after and I was able to go back to work with minimal after affects. He is a very positive person I recommend him.
Dr. Imtiaz Strongly pursues communication methods and today he has various remedied & pleased patients who are living healthy lives.
Frequently Asked Questions
The question that patients may have…
Following are symptoms of Hernia.
Around 66% of people endure Groin Hernia and its symptoms are excessive pain and discomfort especially during coughing sneezing and bending.
Bulges or lumps in body parts are gradually maturing.
Uneasiness throughout the day and during rest time gets better.
Fellow of these Institutions